Unlike parents, teachers may not have the same enormity of various circumstances of life on their pupil but they play a vital role in shaping their minds. In some of the subcontinent countries, children often seek blessings of their teachers, by touching their feet as a mark of respect to them.
Needless to say, the bond of a teacher and pupil is very sacred, which extends to other areas of life too, apart from the education. And this is why, children love to wish their teachers a heartfelt Get Well Soon message when they are sick, had surgeries, or suffer an accident.
And that is what this post is all about. We have prepared some well meaningful and thought-out Get better soon messages for teachers, Professors, Sir and Mam. Not only that, but we have also written Heartwarming Poems, prayers of get well soon for them along with beautiful images and Quotes.
Get Well Soon Poems, Prayers, Rhymes for Teachers along with Quotes and Images
A teacher like you comes once in a while,
Blessed are the students who get to know you in this life!
You are the embodiment of altruism,
And I pray the Almighty to fill you up with optimism!
Speedy recovery wishes for you Sir!
A good teacher is like a candle – it consumes itself to light the way for others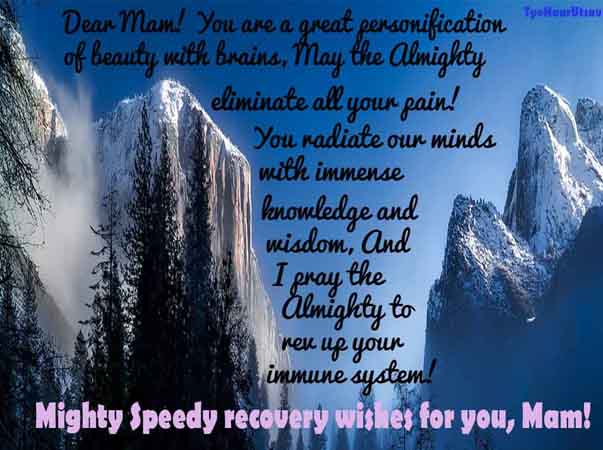 If you have to put someone on a pedestal, put teachers. They are society's heroes.Quote by Guy Kawasaki
Dear Mam! You are a great personification of beauty with brains,
May the Almighty eliminate all your pain!
You radiate our minds with immense knowledge and wisdom,
And I pray the Almighty to rev up your immune system!

Mighty Speedy recovery wishes for you, Mam!
There is no medicine like hope, no incentive so great, and no tonic so powerful as expectation of something tomorrow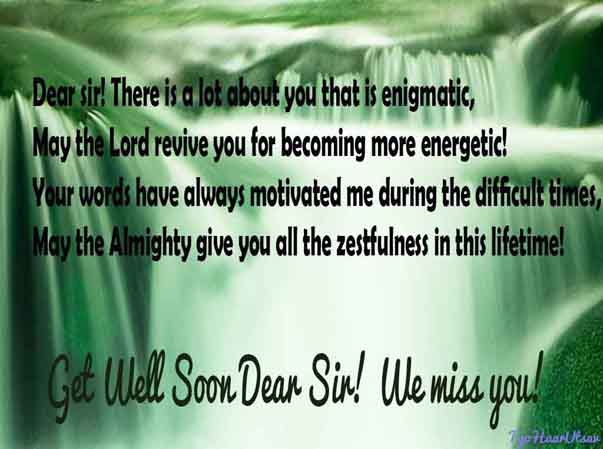 Dear sir! There is a lot about you that is enigmatic,
May the Lord revive you for becoming more energetic!
Your words have always motivated me during the difficult times,
May the Almighty give you all the zestfulness in this lifetime!

Get Well Soon Dear Sir! We miss you!
Your never know how much they care until you are under the weather.
Respected Mam! You have infused us with great values,
And to give you proper wishes and blessings has been long overdue!
May this sickness leaves your body urgently,
Which is all that we pray for you heartily!
Mighty Get Well Soon Wishes to you Mam! God Bless
Heartfelt recovery Wishes and Messages for Mam and Sir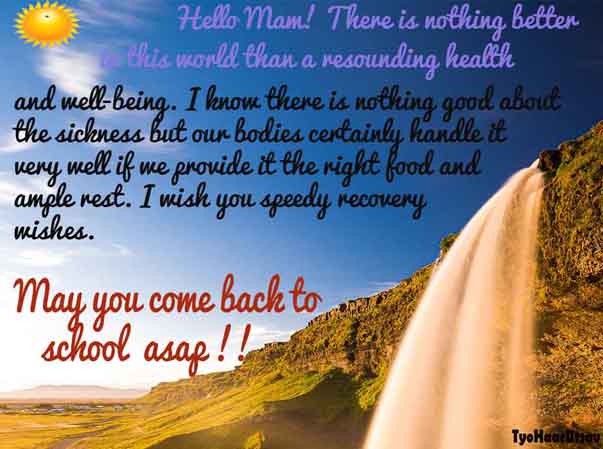 Speedy Recovery wishes for Mam
Hello Mam! There is nothing better in this world than to enjoy resounding health and well-being. I know there is nothing good about the sickness but our bodies certainly handle it very well if we provide it the right food and ample rest. I wish you speedy recovery wishes. May you come back to school asap!
It isn't always easy, but when you're not feeling well – hope it helps to know others are thinking of you – and hoping that you'll be better very soon. Take good care of yourselfQuote by Unknown
Dear Sir! I just came to know about the sickness. We all know that you are brave and that the divine will pull you out from this soon. Keep the faith! Lots of recovery wishes to you!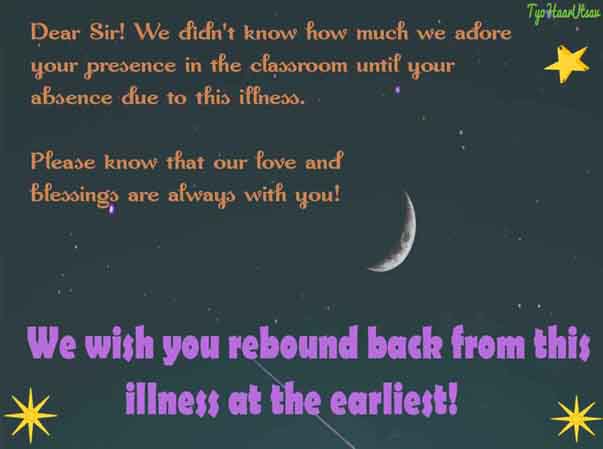 Recovery messages for Sir
Dear Sir! We didn't know how much we adore your presence in the classroom until your absence due to this illness. Please know that our love and blessings are always with you! We wish you rebound back from this illness at the earliest!
There is something enigmatic about your personality that always brings the best out of the students! Mam, we all miss your classes and we hope that the Lord revs up your immune system to combat this disease. Get Well Soon!
Funny Recovery messages for Sir and Mam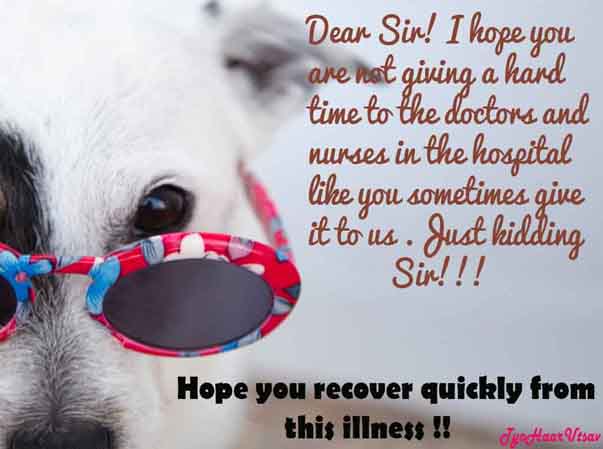 Funny Get Well Soon wish for Teacher
Dear Sir! I hope you are not giving a hard time to the doctors and nurses in the hospital like you sometimes give it to us. Just kidding Sir! I hope you recover quickly from this illness.
I reckon being ill as one of the great pleasures of life, provided one is not too ill and is not obliged to work till one is betterQuote by Samuel Butler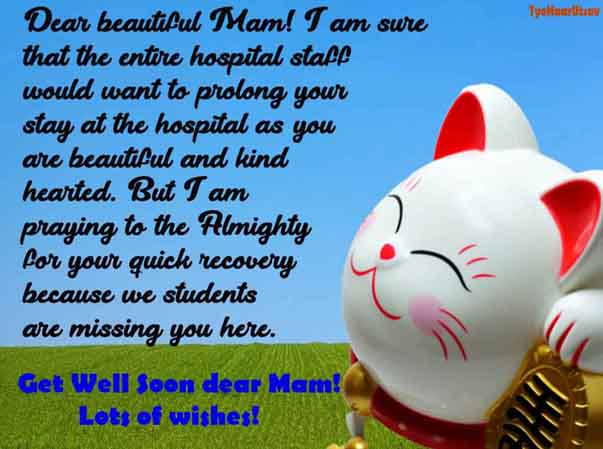 Funny speedy Recovery messages for Mam
Dear beautiful Mam! I am sure that the entire hospital staff would want to prolong your stay at the hospital as you are beautiful and kind-hearted. But I am praying to the Almighty for your quick recovery because we students are missing you here. Get Well Soon Dear Mam! Lots of wishes!
Sleep, riches, and health to be truly enjoyed must be interruptedQuote by Johann Paul Friedrich Richter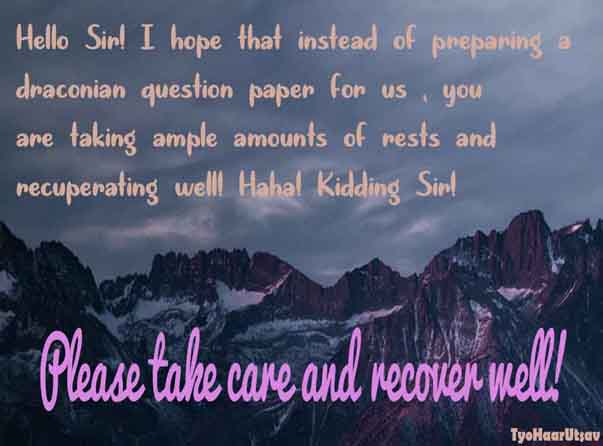 Hilarious Get Well Soon Message for Sir



Hello Sir! I hope that instead of preparing a draconian question paper for us this time, you are taking ample amounts of rests and recuperating well! Haha! Kidding sir! Please take care and recover well!